Since the full release of 3CX Version 18, Lightwire can support our customers who want to combine 3CX's feature set, such as advanced call routing and reporting functionality, with their existing Microsoft Teams deployment.
To put it simply: 3CX can send calls into Microsoft Teams, and your Teams users can make calls to the public networks via 3CX, all without leaving the Teams application.
This is achieved by leveraging an element of Direct Routing and works similarly to Lightwire's Teams Calling packages which we deliver straight into Teams, rather than going via a 3CX deployment.
You may have staff members who need to make and accept calls, but who would prefer this to be done on the desktop or mobile, and who don't require the full functionality of the 3CX desktop clients or webclient. Rather than run both clients simultaneously they'll have a single application that lets them still make calls to other Teams users, extensions on 3CX, and out to external lines.
Call centre staff, reception staff, and anyone else who needs the advanced features of the 3CX apps, such as the switchboard, would be better served by one of the desktop apps or the webclient.
What are the limitations?
Teams doesn't communicate back to 3CX, so marking yourself as unavailable for calls in Teams doesn't let your 3CX users know (by setting you away or do not disturb). There's also no way to see if someone who's using 3CX is away from their desk or already on a call.
There are a few things that you'll need in order to integrate Teams with 3CX:
Every user to be set up needs the additional Microsoft Phone System for Enterprise licenses, or the Business Voice without calling plan for Business licenses. Please see your IT provider or Microsoft CSP for assistance with this.
Your 3CX instance requires the Enterprise license. Your Lightwire account manager will be able to provide pricing for this.
A Lightwire engineer will need to schedule a time to work with your or your IT provider to configure the required syncing with Microsoft 365. The person working with us will require a Global Administrator login to your Microsoft 365 tenancy.
A list of the users who will need to be configured to connect via Teams.
Teams Direct Routing is a feature included in the Enterprise edition of 3CX. Your Lightwire Account Manager will be able to provide the rates for this if you're not already using it. In addition, there will be additional licenses required from Microsoft.
How's the 3CX integration with Teams Calling configured?
Step 1: A Lightwire Engineer will provide you with temporary access to the Administrator account for your 3CX system.
Step 2: Our engineer will step you through the process of accessing the Microsoft 365 Integration section of the 3CX management portal
Step 3: Firstly, you'll create an Azure Active Directory application by following the provided steps: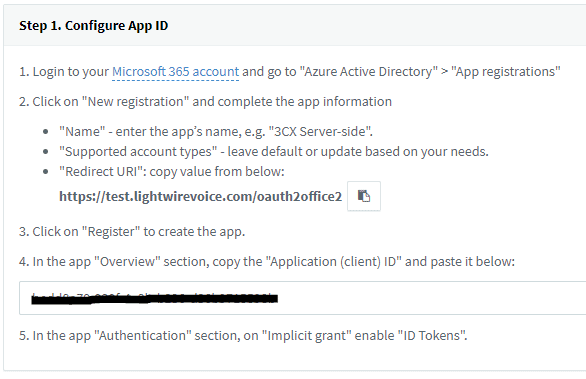 Step 4: Once this has been created you'll create a Key Pair, and upload that to the Azure app:

Step 5: You'll need to set the appropriate permissions in Azure Active Directory, and after a short wait sign into Microsoft 365 to complete the integration:

Step 6: This completes the initial integration. The Lightwire Engineer will be able to then complete the configuration to allow Teams to connect to 3CX. Once this is completed they will provide you with two scripts and instructions on how to run them in Powershell to set up your users.
Other Microsoft 365 integration
Integrating 3CX with your Microsoft 3CX tenancy allows you to take advantage of some other features, such as:
User Synchronization

Whenever you add a new user to your 365 tenancy have an extension automatically created for them, including syncing their outbound caller ID with the number set in their Office Phone field. Note: users aren't automatically deleted from 3CX is a user is removed from Microsoft 365

Contact Synchronization

Automatically sync a user's Microsoft 365 contacts list with their personal phonebook in 3CX, and/or the shared mailbox contacts with the 3CX company phonebook. Note, changes made in 3CX aren't replicated in Microsoft 365, the synchronization is only one way.

Calendar Synchronization

Automatically updates an extension's status depending on their Outlook calendar. If you have a meeting booked in Outlook as Out of Office or Away, 3CX will automatically set your extension to Away. If you're booked as Busy or Working elsewhere, you'll automatically be set to Do Not Disturb
These can also be set up independently of Teams Direct Routing, and don't require Enterprise licensing!