Let's face it, everyone wants the fastest fibre for the lowest price and expect it to never have any issues. But that's not the world we live in.
If you're looking at Ulta Fast Broadband (UFB) as a primary connectivity option you should know the different types of UFB available, the different service level agreements (SLA's) that come with them and at which point you should be looking at something more than just the cheapest and fastest connection.
Realistically, no business can handle being down for a day or have bandwidth issues, so having a backup option and failover process in place is critical. But when it goes wrong you need to be confident that you've set the right expectations with your team and customers.
Let's take a look at the different classes of service UFB has to offer today (at a high level), some of the use cases you should consider and then assess the service level agreements, and most importantly the service restoration targets that go with each one.
UFB offerings
There are three main types of UFB called Bitstream 2, 3 and 4. The higher the number, the better the quality, and the more bandwidth you can get, and the service level/restoration target is superior. Let's break them down:
Bitstream 4 – BS4
Bitstream 4 is top tier in the UFB line up and considered as an HSNS and Dark Fibre equivalent service which is deployed across dedicated fibre to your premises (not a Gigabit Passive Optical Networks or GPON for short), more on those other non-UFB premium fibre services and GPON in a later article. You're going to get unlimited layer 2 MAC addresses, multi-VLAN capabilities, lower latency and jitter characteristics and guaranteed bandwidth at a Committed Interval Rate (CIR). In layman terms, if you purchase 1 Gbps of 'speed' (bandwidth), then 1 Gbps is the 'speed' that you can expect the connection to run at.
BS4 is aimed at the enterprise market and has the best SLA – the enterprise one.
Use case: Targeted at the enterprise customer who needs committed speeds, the best SLA's, does a lot of voice and video conferencing, runs latency-sensitive applications, hosts production services for customers or is the internet breakout site for an MPLS WAN.
Service restoration targets: Enterprise SLA
Speeds: Options from 10Mbps to 1Gbps,
Bitstream 3 – BS3
Bitstream 3 is a business-grade service that brings most of the enterprise features you get in BS4 such as multi-VLAN capability and SLA but without the full bandwidth CIR. It comes with a mixture of guaranteed (2.5mbps) and contended bandwidth, similar to the BS2 but also gives the option for a Max/Max speed, which gives it an extra 500 Mbps of bandwidth over the BS2 on upload.
The reason for non-full commitment of CIR with BS3 and below is the nature of the GPON design of UFB in New Zealand, that is, the local fibre companies tend to oversubscribe the FFP (splitter cabinets) before the traffic gets to your ISP, and are therefore subject to congestion, which is why BS4 and premium services are necessary for businesses requiring committed 'speeds'. However, we are yet to see an instance where best effort Gbps speeds don't exceed the performance of more expensive BS4 services sold at an equivalent price point.
BS3 misses out on the unlimited MAC addresses that the BS4 has with a 64-address limit. Why is this an issue? It's a restriction on the number of Layer 2 devices you can have connected via the Optical Network Terminal (ONT).
It's worth mentioning that when you attempt to connect more than this limit the traffic from the latest connected device will be discarded and you should use a device that is capable of Layer 3 routing to avoid running into this issue.
Use case: Customers who need SIP lines, voice and video conference, are hosting in house applications, need disruptions to be minimal and offices or sites that represent the internet breakout point for an MPLS WAN, which requires the multi-VLAN capability.
Service restoration targets: Enterprise SLA.
Speeds: Options from 100Mbps to 1Gbps.
Bitstream 2 – BS2
Bitstream 2 is your standard home and small business option and the most common of the UFB products sold. BS2 is known for its lower prices, but also comes with weak service level agreements and long restoration times as well as an 8 device MAC limit, but with speeds up to 1Gbps down and 500Mbps up, it's a good price point for businesses that just want a fast connection and not worried about have committed speeds (CIR), not hosting production systems and can afford some service disruption.
Use case: Home and small businesses, no requirement for CIR, lots of bandwidth and low-cost WAN and SD-WAN sites.
Service restoration target: Default
Speeds: Options beginning at 30Mbps to 1Gbps down and up to 500Mbps up.
Service restoration targets
Let's break down the service restoration targets, but first I'll say that all services sold by Lightwire have a service level agreement (SLA) that applies to them and that the SLAs below relate to the Local Fibre Company (LFC) who connects your offices to our core infrastructure. The most exciting thing for small businesses is the recent introduction of a new product called Small Business Fibre that Chorus is offering on two of the existing BS2 service speeds (100Mbps and 1Gbps).
The service restoration targets are comparable to a BS3/HSNS/BS4 services, which actually makes this a relatively good alternative to BS3 if you're in a Chorus region, on a budget or looking to cut some costs and maintain some half-decent form of SLA.
As for as the service level agreements go, this table shows the current BS2 (default) restoration target and the new SBF service targets.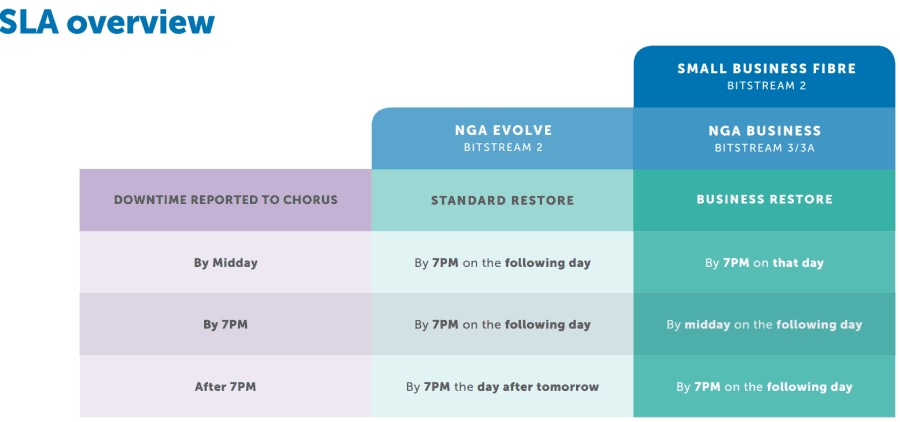 It's a significant improvement over the default Chorus SLA, with reductions of up to 24 hours in some cases, but let's look at how the service restoration targets are scoped for the wider UFB product set and across all Local Fibre Companies (LFC).
Default LFC service restoration targets
| | | | |
| --- | --- | --- | --- |
| Service Level Type | Max downtime (Physical fibre) | Max downtime (Layer 2) | ONT Faults Included in Layer 2 Target? |
| Default – Chorus | ≤ 48 hours | | NO |
| Default – other providers | ≤ 24 hours | ≤ 12 hours | NO |
| Enterprise SLA | ≤ 6 hours | ≤ 6 hours | YES |
Outside of the enterprise SLA, they don't look flash and by default, they also don't include issues with the ONT, which is a key piece of equipment in the network and often overlooked.
TIP: Make sure the ONT gets connected to an uninterruptible power supply (UPS) or at least a power surge protector, this can save you and your customer's unnecessary outages.
Now, some of you might say something along the lines of "we need to operate from 7 am to 7 pm with no interruption, 12-48 hours is too long to be down". You'll be pleased to know that you can get enhanced restoration targets from the LFC which get added onto the monthly cost of the circuit.
There are two enhanced classes which can slash between 16 and 38 hours off the downtime of your BS2 circuit and while these exist, I would likely recommend you get a BS3 circuit or a BS2 SBF circuit.
LFC enhanced service restoration targets
| | | | | |
| --- | --- | --- | --- | --- |
| Service Level Type | Max downtime (Physical fibre) | Max downtime (Layer 2) | ONT Faults Included in Layer 2 Target? | Additional Cost (POA) |
| Enhanced SLA Level 1 | ≤ 24 hours | ≤ 12 hours | Yes | Yes |
| Enhanced SLA Level 2 | ≤ 12 hours | ≤ 8 hours | Yes | Yes |
| Enterprise SLA | ≤ 6 hours | ≤ 6 hours | Yes | Yes, for BS2, no for BS3 & BS4) |
But what other options do you have to improve on this even if you have an Enterprise SLA?
We know realistically that being offline or failed over to your secondary circuit for 6 hours isn't acceptable or necessarily practical and could be costing you a small fortune in data charges.
Fortunately, you can add-on a Critical Response services from the LFC!
It is little known, but most LFC's will have a 2-hour critical response option to get you operational ASAP. It may seem expensive but work out the cost of your business or your customer being impacted by either total connectivity loss, reduced performance or data charges and it soon pays for itself.
2–hour critical response target
| | | | |
| --- | --- | --- | --- |
| Carrier | Availability | Time to site visit | One-off charge |
| Default – Chorus | 24/7 | ≤ 2 hours (nationwide) | $795 ex GST |
| Default – other providers | 24/7 | ≤ 2 hours (metro) | $895 ex GST |
Prices ex GST, NZD.
Now, of course, there are some caveats which are:
Fault resolution not guaranteed as a result of a site visit
If the technician does not arrive at site within the Critical Response time frame (2 hours), they will advise you of the earliest possible time they can have a technician at your premises – this will not incur the charge.
The service level is met if a technician is onsite (at either an exchange, cabinet or customer site) within 2 hours
UFF non-metro areas include HAW, TOK.
Summary
There is a wide range of options to suit any business and any requirement for continuity, but at the end of the day it comes down to your appetite for risk, budget and ability to handle a site being down or in a degraded state. Hopefully, this helps in your planning. If you're not sure what option is best for you or your customers, or if you need to know what your connectivity options are, then get in touch with us at sales@lightwirebusiness.com.
Key takeaways:
You have options to enhance your SLA even at an enterprise level
BS3 and BS4 have the enterprise SLA applied as default
Enhanced SLAs are not an alternative to a secondary service
Consider upgrading to Small Business Fibre (SBF) if you're on a BS2 connection in a Chorus region
Non-CIR options are only best-effort speeds
Ask us if you're not sure what's best or available
Nick Phillips
Business Development Manager
NZ: 0800 534 567 NZ
AUS: 1300 016 678
Connect on LinkedIn