Teams Phone has its strengths and weaknesses. Whether it is the right fit for your clients is going to come down to cost, functionality, reliability and how it aligns with your other service offerings as a wholesaler.
As an MSP, the best way to approach voice, and we're paraphrasing the famous Marie Kondo here –  "Keep only the systems and vendors that speak to the heart, and you're your strategic objectives. Discard those that no longer spark joy. Thank them for their service – then let them go".
This next section will detail the support available, SLAs and restoration times, what you should be asking your clients in pre-sales, and how billing can be made easy.
Pricing up the right plan
From Lightwire, you will have the option of "Calling Bundles" or "Unlimited Calling" plans, then you are going to need to decide on how many simultaneous calls or channels you are need using the 4:1 contention ratio, any additional services (such as toll-free numbers) and finally land on a term. A bit like this:
Voice Service + Calling Plan + Channels + Additional Services + Term = Monthly Price
For example: Teams Phone + Unlimited Calling + 10 Channels + 2x NZ toll free + 36 Month = $907.20+ GST (RRP)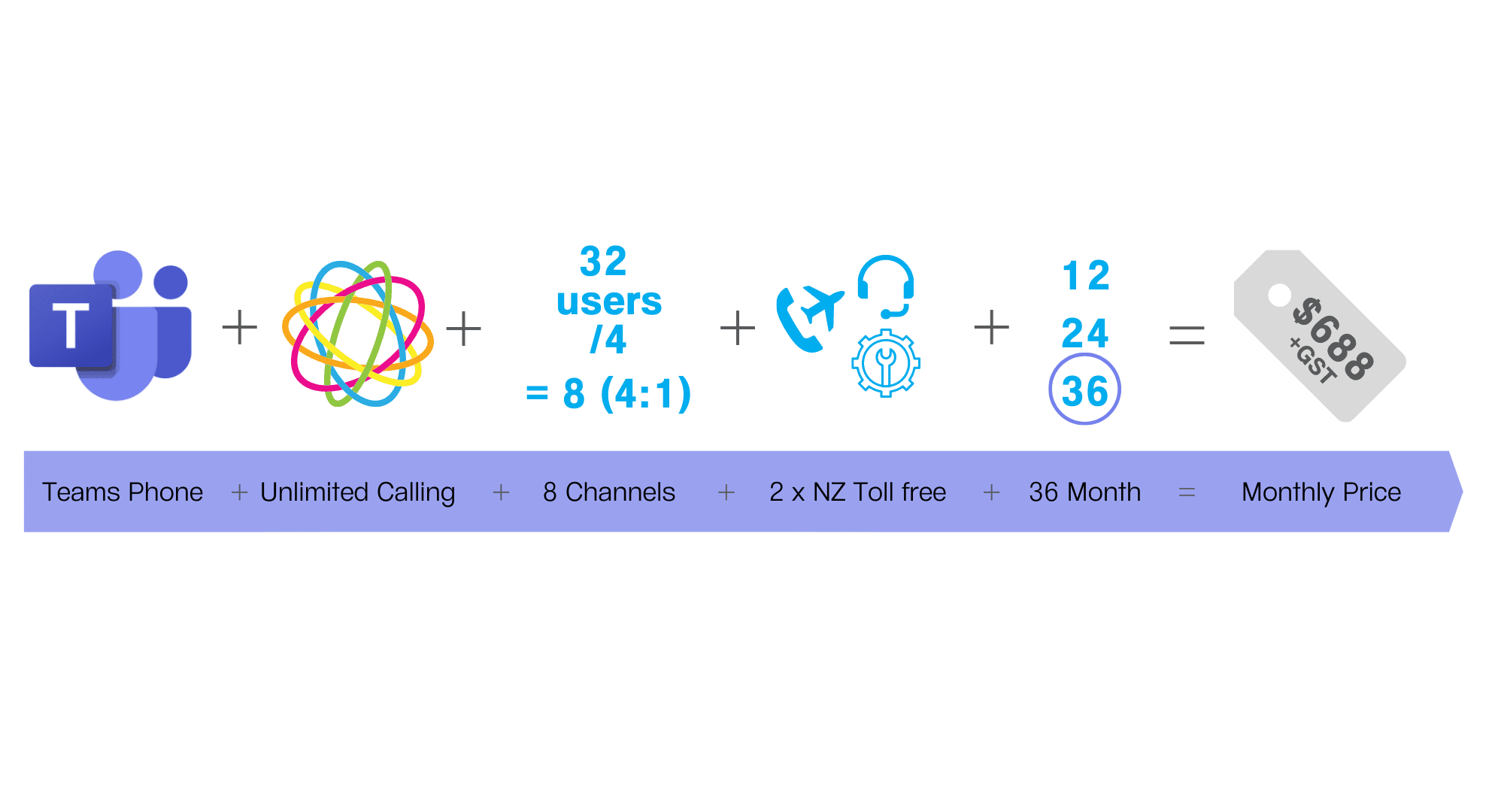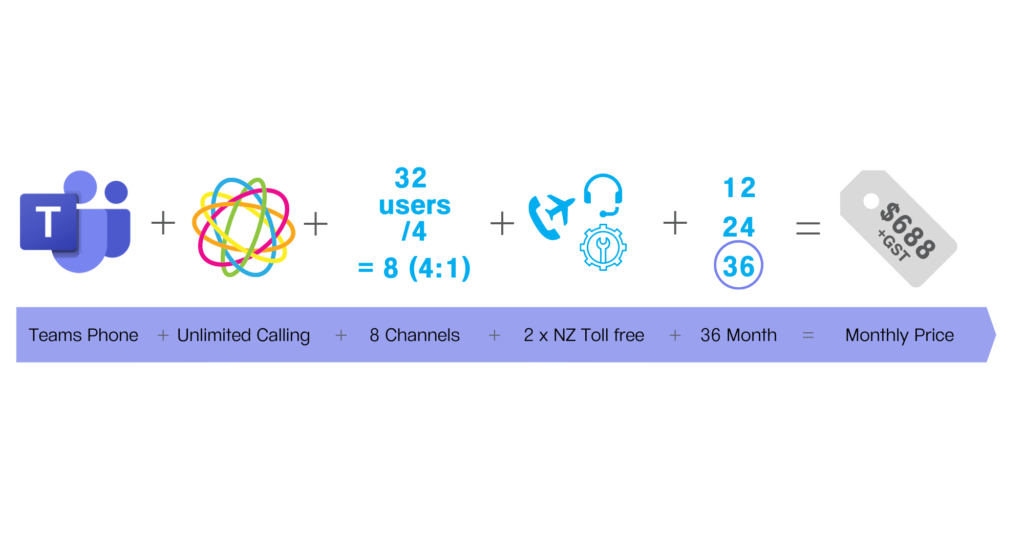 But first, what is the difference between "Calling Bundles" and "Unlimited Calling," and how can you determine which is suitable for your customer?
All our Calling Bundles come with a generous allocation of phone numbers and minutes included, which can be supplemented with more mobile minutes to allow for cost-effective growth in call volumes.
For example, our Teams Calling 20 Channel Bundle comes with 25000 Outbound Local NZ minutes, 10000 Outbound NZ/AU National minutes, 200 Outbound NZ/AU Mobile minutes.
Pro tip: Local minutes aren't a thing in Australia, so ignore them for Australian services. Otherwise, plans and rates are the same in both NZ and AU.  
Unlimited calling plans are going to give you budgetary certainty with unlimited outbound calls to landlines and mobiles in NZ and Australia, including outbound and inbound calls to 1300 numbers in Australia. 
Is there some sweet formula for working out whether going unlimited is the most cost-effective option? Absolutely, and we'd be happy to work with you to analyse your client's usage to determine which plan would best suit them – but if in doubt, go unlimited.
How do I know what my customer has or needs?
The number 1 question we get is, "how do I know how many numbers and how much billing my customer does?" This detail is critical as it allows you/us to quote the customer correctly.
We recommend analysing their current invoice and breaking down their plan(s). Unfortunately, voice invoices are typically painful to analyse. However, if you need any assistance with this, we're more than happy to take a look and give you advice or arm you with questions to go back to the customer.
Working out how many channels you need
There is no one size fits all approach here as it comes down to a decision between risk and overhead. But first, what is a channel, and why is it important?
Channels are a representation of the number of simultaneous calls you can make and receive at any single point in time.
You may already know that your customer has X number of channels, and that's a great place to work from. But, if you don't, then add the total number of voice users together and divide by four.
This will give you a good base to begin with. Then if you want a more generous amount of overhead, divide the total by three instead of four.
What to ask your customer:
You can bring existing New Zealand and Australian numbers with you by porting them across to Lightwire or get new numbers; the choice is yours.
All plans come with an included amount of DDI (Direct Dial-In) numbers. For example, 10 are included in our Teams Phone 10 Channel Unlimited plan, but you can add additional individual DDI numbers or get a 100 Block of numbers.
Likewise, we can port your existing tollfree numbers or supply new ones. Porting takes approximately 10 business days in New Zealand and 20 business days in Australia for simple ports.
Pro tip: The more numbers you have, the more complex a port is, and this may increase porting lead time.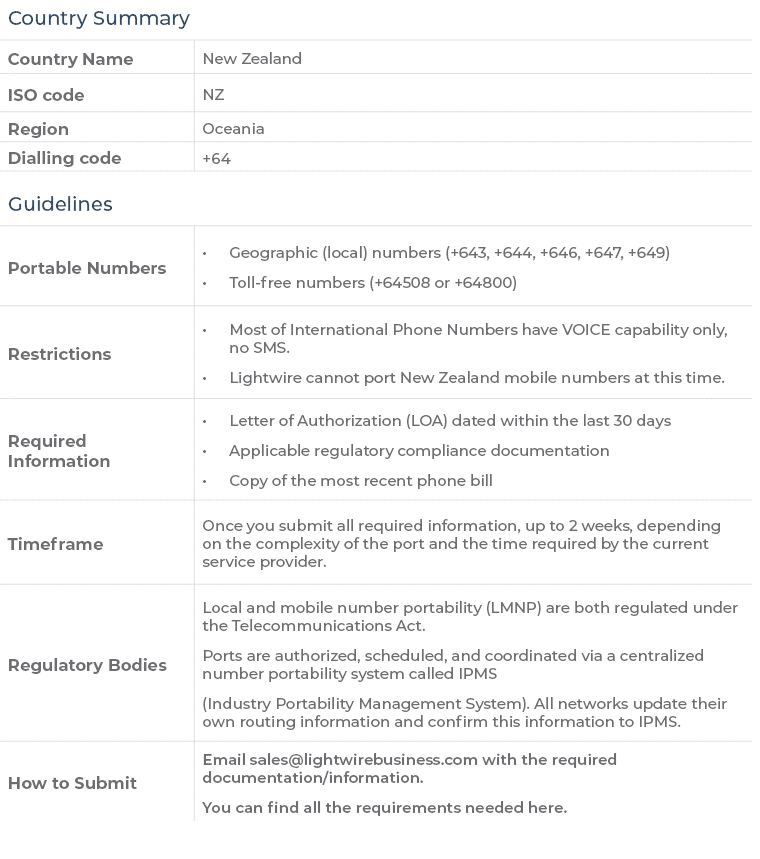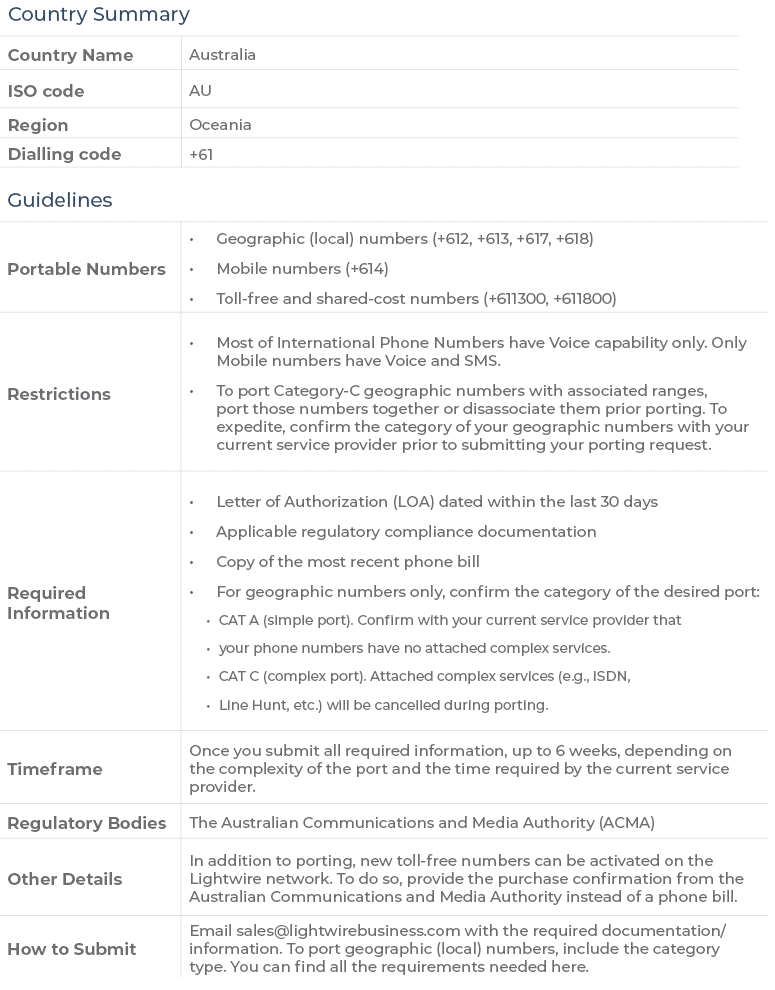 Support and Service Levels
The SIP component (that's the bit provided by Lightwire), is subject to the following service level targets:
| Item | Performance Objectives |
| --- | --- |
| Service Availability Target: | 99.9999% Measured Annually* |
| Service Availability Window: | 24 hours a day, 7 days a week |
| Service Installation Target: | 30 Business Days |
| Scheduled Outages: | Not included in the monthly service availability target |
The Microsoft component of Teams Phone (everything within their eco system) is backed by their own SLA.
Pre-sales question checklist for Teams Calling
As an MSP, you will be looking to understand:
To help you create a comprehensive offer, here are a few key questions for you to consider asking your clients (Obviously, these questions will have varying degrees of relevance depending on whether you are pitching to a current or potential client):
Does your customer have the skills in-house to set it up and/or maintain Teams Phone? If not, which elements will you be assisting with?
Will you be providing a one-off or managed service based on the answer to the above question?
What Microsoft Licencing is your customer currently using?
Do they have any existing physical phones they want to keep? If they're not supported with the Microsoft SIP Gateway, they will be redundant after this project.
What features do they currently use on their existing phone system? You will need to ensure that you can replicate these in Teams.
How many landline numbers (known as a DDI or DID) and/or tollfree or 1300 (in Australia) numbers are required? Will these be newly issued or ported?
How many concurrent calls at a maximum does the business make? This will give you an idea of the right number of channels to quote and set contention ratio.
Are they able to provide you with a diagram detailing their current call flow(s)?
What time of day diverts are required? (If any)
Are the existing IVR message held on file and relevant, or will these need to be freshly recorded?
Are any 3rd party integrations currently used or desired?
Is centralised and managed call recording required?
Is uptime and availability of high value to the customer? If so, will the Microsoft SLA provide the backing you need to be confident of the performance of the service you will front?
Do staff prefer headsets or handsets?
Do you have a receptionist function?
Do you have any requirements for cordless? e.g. warehousing, workshop
Scope, design, provision and support Teams Calling with Confidence.
Get the free eBook that walks you through all of it without the sales pitch. No forms, no spam, no cold calls. The eBook is 100% free.