The release of 3CX Version 18 brings with it a whole host of benefits, including user sync, calendar status sync and the highly anticipated Teams phone system integration.  
Let's take a look at how the integration works and if it's right for your business. 
One of the most common, and important, conversations we have with our customers is around which voice system is best suited to their needs. To help in this discussion, we created a blog that can be found here which details the key differences between the platform. Ultimately, the decision comes down to whether your business requires the enhanced feature set of a Unified Communications system like 3CX, or if your requirements are fairly basic and can be covered by Teams Calling,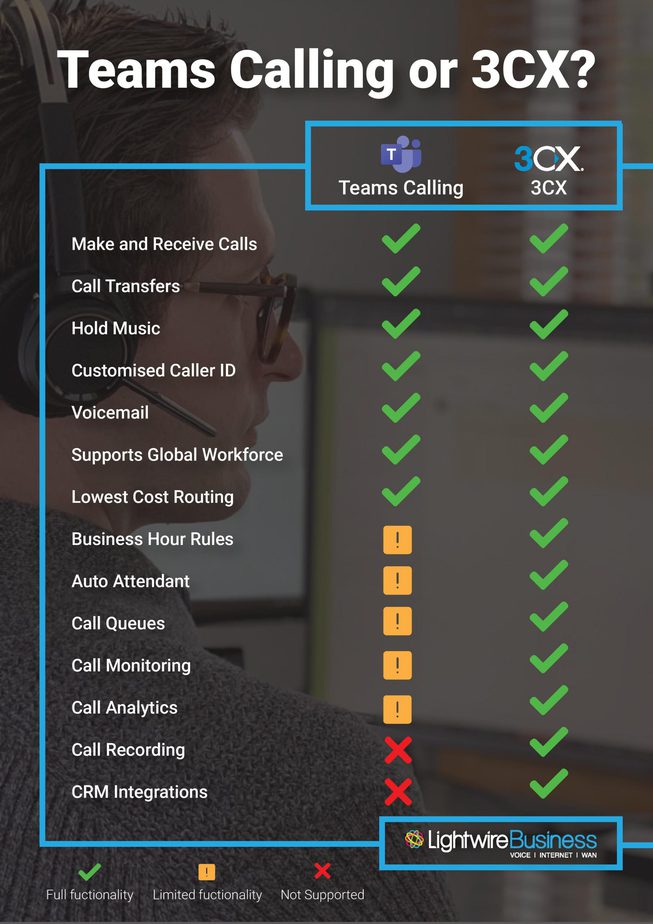 Introducing the hybrid model 3CX-Teams Model
With the recent release of the 3CX V18, businesses are now able to get the best of both worlds, integrating the advanced features and call centre functionality of 3CX without introducing another application to staff who are familiar with, and comfortable using, Microsoft Teams.
This new release means you can keep 3CX in the background as a piece of core technology that links to your Microsoft 365 tenancy and leverage its functionality for call queues, IVR (digital receptionists), call recording and the complete set of call centre tools, reporting and analytics etc. This enables your staff to use Microsoft Teams as the user-facing softphone for making and receiving calls.
3CX does recommend that the integration only be used for users who only need simple in and out calling; anyone with more advanced requirements would be best to use the 3CX apps directly.
Will this suit my business?
There are several scenarios where the 3CX Teams hybrid model makes perfect sense. If your business has different departments with very different calling habits, It could well make sense for you to adopt a hybrid model that complements their working style.
If your admin team is already using Teams for internal comms; they will likely enjoy the simplicity of integrating their external calling with Teams. While your call centre will prefer to keep their 3CX phone/app and native wallboard functionally.
Or perhaps your team have very simple in/out calling needs, but you'd like the recording, oversight and analytics that 3CX offers to help drive business decisions.
Another factor may be hardware related. Many customers have invested in handsets that aren't Team's capable, but with this hybrid solution you can leverage your existing 3CX capable phones and protect your investment.
Most importantly, your admins are able to benefit from a full-featured PBX that's much easier to use and configure than Teams.
Setting up contact center features such as advanced call queues, reporting, call routing, and more can still be done by Lightwire with the hybrid mode, giving you the supported setup by our 3CX certified voice engineers.
You'll need to ensure you have the additional Microsoft Phone System licensing for Enterprise or the Business Voice without calling plan for Business licenses. Pricing for this is between $12-18 dollars/month per user to enable users access to the integration, so costs will escalate the more users you have working in hybrid mode. Your IT provider or tenancy admin will need to price these up for you.
At present, 3CX's Teams integration can be tested with any 3CX edition. However, once the final version of the Teams integration is released, you will need to upgrade your 3CX license to enterprise and will need to factor in the additional cost.
Already have 3CX with Lightwire?
The good news is our team can quickly get you upgraded from the professional version to the enterprise version of 3CX and discuss the commercials with you. Get in touch with your account manager at sales@lightwirebusiness.com to get started.