Let's break down the Service Restoration Targets.
But first, I'll say that all services sold by Lightwire have a Service Level Agreement (SLA) that applies to them. The SLAs below only relate to the last-mile access provided by the Carrier or Local Fibre Company (LFC) that connects your client locations to our core infrastructure. Our SLAs have to piggyback those in part but also encompass our core network performance.
Chorus turned the New Zealand SLA convention on its head in July 2019 by introducing a new product called Small Business Fibre (SBF) that's offered over 500/500 and Max/500 BS2 service speeds.
Quick aside, "Max" refers to 1 Gbps port speeds, but due to a Commerce Commission ruling, we aren't allowed to advertise it as offering 1 Gbps speeds due to its best-effort design.
The Small Business Fibre service restoration targets are comparable to a BS3/BS4 services, which had 'Enterprise SLAs' at the time. This actually makes this a fantastic option if you're in a Chorus region and aren't fussed about running multiple VLANs or MAC address limitations.
As far as the service level agreements go, this table shows the current BS2 (default) restoration target and the SBF service targets.
UFB Service Restoration Targets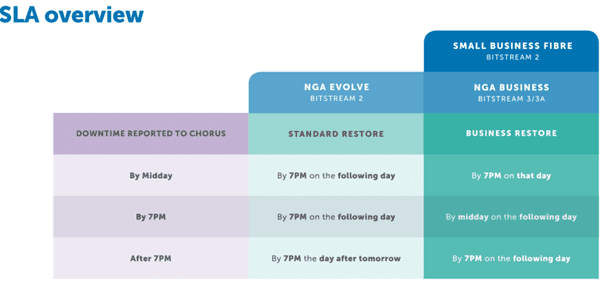 It's a significant improvement over the default Chorus SLA, which now applies to residential and non-business related services, with Small Business Fibre service restore times up to 24 hours faster in some cases.
Over the years, the Business Restore has slowly been adopted by some other Local Fibre Companies.
Enable applies the Business Restore SLA to customers located at a business address (non-residential locations) but let's look at how the service restoration targets are scoped for the wider UFB product set and across all Local Fibre Companies, those being Enable, Tuatahi First Fibre and Northpower.
Read the guide to get up to speed on everything from high-level market intel to service specific details and all the gotchas in between. No Forms, no calls – 100% free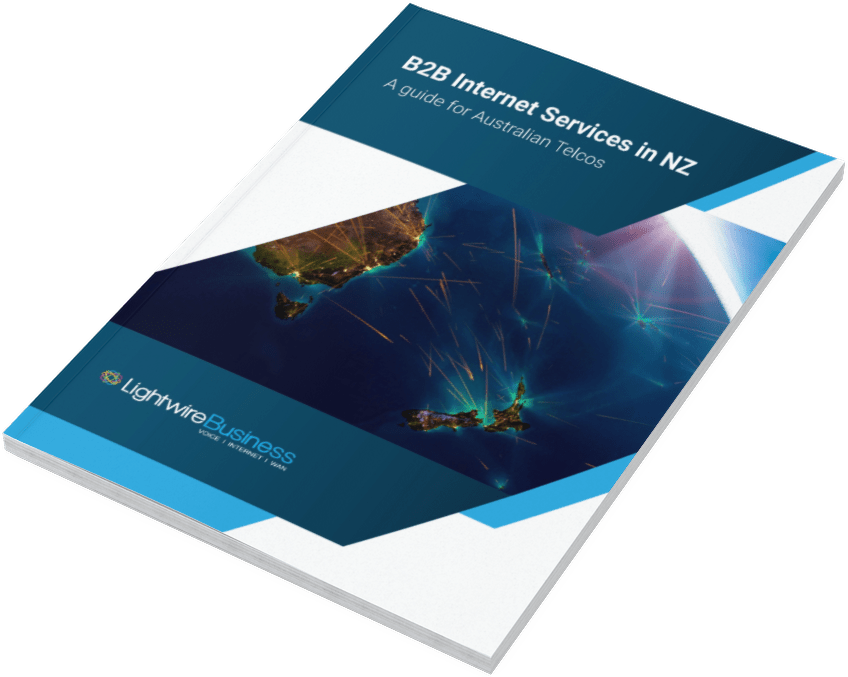 UFB Service Restoration Targets
Bitstream 2
Small Business Fibre & Bitstream 3
Downtime reported to Chorus
Standard Restore
Business Restore
By Midday
By 7pm on the following day
By 7pm on the same day
By 7pm
By midday on the following day
After 7pm
By 7pm on the following day
Restoration targets are not rebate backed.
Availability window is 7 days per week between 7am and 7pm
Tuatahi First Fibre (TFF)
Service Restoration Targets
 
Bitstream 2
Bitstream 3
 
Consumer Restore
Enterprise Restore
Downtime reported to TFF Restore Target
Between 7am – 7pm, 7
days a week
Between 7am – 7pm, 7 days a week
Restore Target
Within 6 hours from the
time Downtime is reported
By the end of the following day the Downtime is reported
Northpower service restoration targets
Bitstream 2
Consumer Restore
Standard Restore
24/7
48 hours from Downtime* first occurring
Measured from the time that a fault is detected, either by an End User fault report or by a Network surveillance system, to the time the fault is resolved and the UFB Services is restore.
Enable service restoration targets
|   | BS2 + BS3 (Business, Health & Education Addresses) |
| --- | --- |
| Downtime reported to Enable | Business Restore |
| By Midday | By 7pm on the same day |
For those operating outside of the Enterprise, SBF, and Business Restore SLAs, they don't look flash. By default, they also don't include issues with the ONT, which is a key piece of equipment in the network and is often overlooked. TIP: Make sure the ONT gets connected to an uninterruptible power supply (UPS) or at least a power surge protector. This can save you and your customers' unnecessary outages.
But what other options do you have to improve
on this, even if you have an Enterprise SLA or
Business Restore?
We know that being offline or failing over to your secondary service for 6+ hours isn't acceptable for most businesses. Fortunately, you can add a Critical Response service from most of the LFCs.
It is little known, but most LFCs will have a 2-hour critical response option to get you operational ASAP. It may seem expensive but work out the cost of your business or your customer being impacted by either total connectivity loss, reduced performance or data charges, and it soon pays for itself.
Now, of course, there are some caveats with the Critical Response service:
Fault resolution is not guaranteed as a result of a site visit
If the technician does not arrive at the site within the Critical Response time frame (2 hours), they will advise you of the earliest possible time they can have a technician at your premises – this will not incur the charge
The service level is met if a technician is onsite (at either an exchange, cabinet or customer site) within 2 hours
TFF non-metro areas include Hawera and Tokoroa where a 4 hour time to site SLA is applied
2-hour critical response target
|  Carrier | Availability | Time to visit | One-Off Charge |
| --- | --- | --- | --- |
| Default – Chorus | 24/7 | ≤ 2 hours (nationwide) | $795 ex GST |
| Default – other providers | 24/7 | ≤ 2 hours (metro) | $895 ex GST |
Default LFC service restoration targets
| Service Level Type | Max downtime (Physical fibre) | Max downtime (Layer 2) | ONT faults Included in Layer 2 Target? |
| --- | --- | --- | --- |
| Default | ≤ 24 hours | ≤ 12 hours | No |
| Enterprise SLA | ≤ 6 hours | ≤ 6 hours | Yes |
There is a wide range of options to suit any business and any requirement for continuity, but at the end of the day, it comes down to your appetite for risk, budget and ability to handle a site being down or in a degraded state.
You have options to enhance your SLA even at an enterprise level
Small Business Fibre from Chorus, along with BS3 and BS4 services from any provider have the enterprise or business restore SLA applied as default
Critical response is a good option to have pre-approved to use
Enhanced SLAs are not a suitable alternative to a secondary service
Non-CIR options are only going to provide best-effort speeds
Read the guide to get up to speed on everything from high-level market intel to service specific details and all the gotchas in between. No Forms, no calls – 100% free