Chorus were the first to announce and release it in 2020, Tuatahi First Fibre (TFF) followed a bit later, and Enable launched it in 2021.
Hyperfibre is the latest evolution of UFB access speeds and is available across the majority of the locations covered by the original UFB rollout (that covers about 75% of locations nationally), presenting a 10 Gbps Ethernet port along with 4 x 1 Gbps ports.
It runs over XGS-PON, which is a technical term that stands for the updated standard for Passive Optical Networks (PON) that can support 10 Gbps symmetrical data transfers. The "X" in XGS represents the number 10, whereas the "G" stands for Gigabit, and the letter "S" stands for symmetrical.
XGS-PON is a 10 Gigabit Symmetrical Passive Optical Network that enables users to reach speeds of up to 10 Gbps for download and upload regardless of the distance. The name "XGS-PON" is not exactly memorable or easy to pronounce, hence we use Hyperfibre as a catch-all term for this type of service in NZ. Chorus are running with 2000 Mbps, 4000 Mbps, and 8000 Mbps residential and small to medium business options, and 4000 Mbps and 8000 Mbps business options.
Enable offers 2000 Mbps, 4000 Mbps, and 8000 Mbps Business and Residential variants. TFF offers the 2000 Mbps and 4000 Mbps in Business and Residential variants.
Services are now widely available via Lightwire with the same SLA's at their UFB equivalent services.
We offer 2 Gbps and 4 Gbps options nationally and 8 Gbps speeds in Auckland and Wellington, with more locations to follow for the Small Business and Business variants. The BS3 business variants are multi-VLAN capable, allowing up to 64 MAC addresses and we only supply the ONTs configured in Bridge Mode, rather than as Residential Gateways.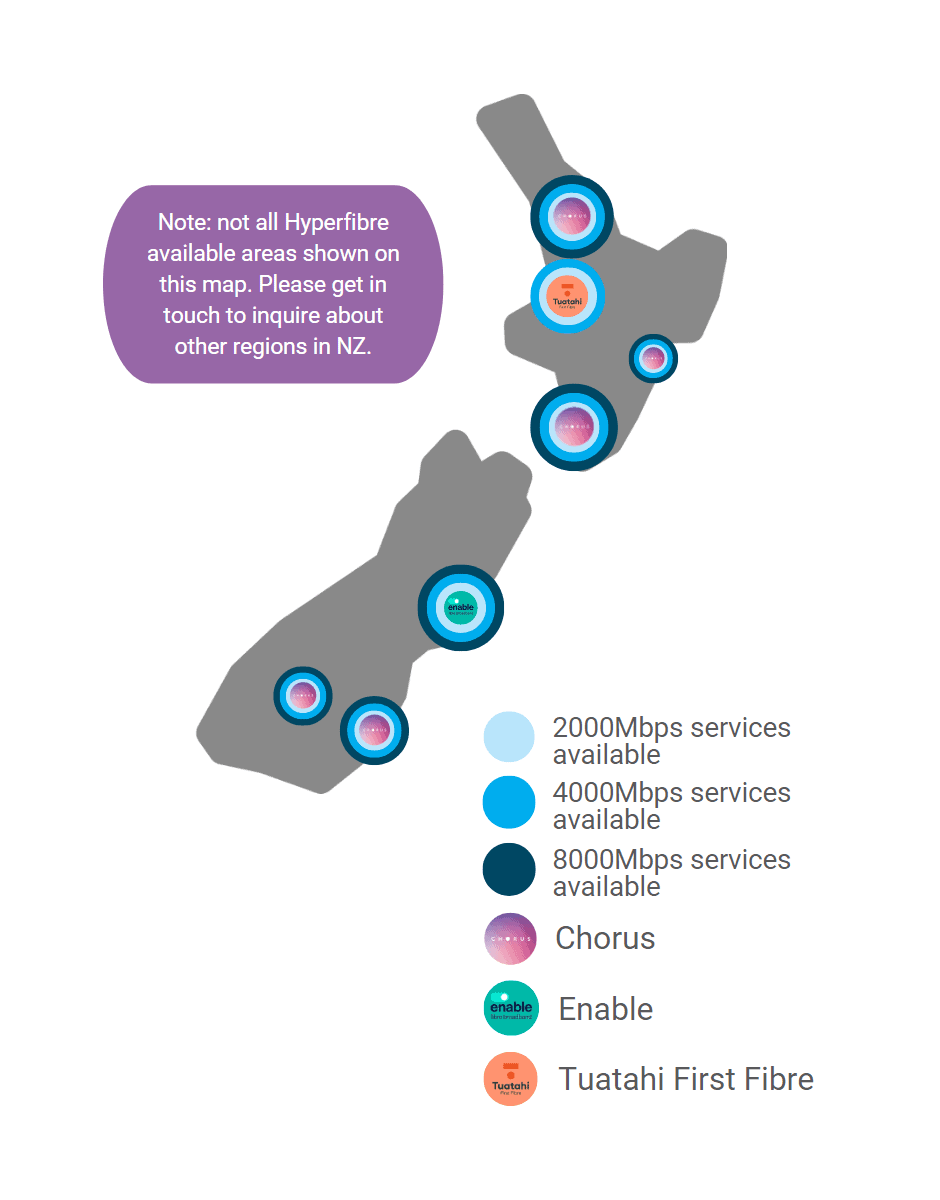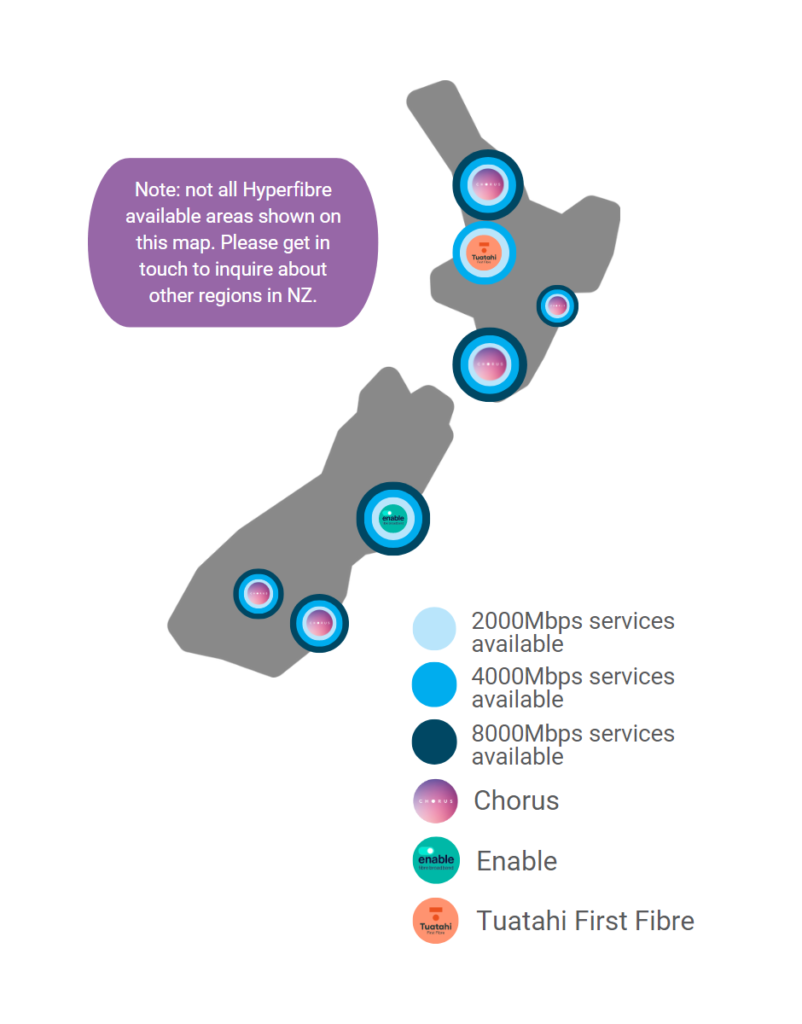 Getting the most from Hyperfibre
When we look at use cases for Hyperfibre, we should be thinking about the aggregate capacity being offered rather than a headline speed for an individual user.
That's certainly how Chorus is promoting the optional use of the 4x 1 Gbps ports on its ONTs when configured in RGW mode, where a business has a use case for speed in excess of 1 Gbps due to a number of individual users or applications (business connections are provided via Bridge Mode (Single 10 GE port) carving up the bandwidth allocation by VLAN or traffic profiling would be you're choice and configured on your router.
Speed hasn't been an issue in New Zealand because services like Dark Fibre have been available for a long time, but speeds in excess of 1 Gbps are now mainstream, with price points within reach of the vast majority of businesses.
So in a number of cases, the 4 Gbps business variant will be a great alternative to dark fibre. The catch is the MAC address limit and the service lacking that CIR component, so be sure to scope that fully before jumping in.
Read the guide to get up to speed on everything from high-level market intel to service specific details and all the gotchas in between. No Forms, no calls – 100% free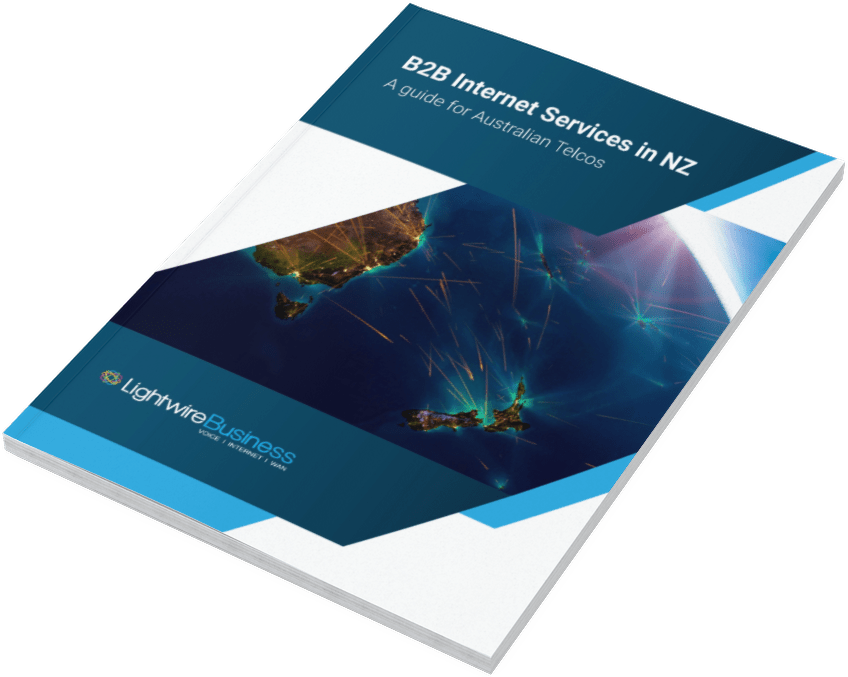 When scoping whether Hyperfibre is a good fit…
Router and firewall selection, Wi-Fi, cabling, switching, network interface, CPU, and disk resource – all will be critical in maximising speeds. They will all need to be carefully selected if they aren't going to impact the end-user experience by artificially limiting throughput.
Each of the carriers releasing this product is doing so with a design that sees the service presented as a 10 Gbps copper port. Not many routers offer 10 Gbps copper interfaces, and those that do are typically fairly expensive. More than that, the speeds that Hyperfibre services provide just can't be handled by many of the routers in common use today.
Standard throughput, just passing traffic on as is, is a big enough ask at speeds of 2 Gbps to 8 Gbps, but running a VPN or packet inspection at those speeds puts you in a high price bracket when shopping for a router/firewall.
Over the 8 Gbps Hyperfibre variant, we have regularly attained symmetrical speeds of 7 Gbps using a FortiGate 100F router with a copper transceiver, and we feel that although this router is far from low cost, it provides the throughput and functionality clients need.
The market will eventually catch up and find a viable SME option for routers that provides VLAN tagging and NAT (address translation), but for now, if businesses are looking to take on these fast and relatively low-cost Hyperfibre services, there are a couple of potential gotchas to think about:
Router/firewall. See above.
Wi-Fi. Are your client's office devices connected via Wi-Fi? If so, what is the max speed that can run at? 802.11ac (Wi-Fi 5) is the standard and runs at a max of 1.7 Gbps. And there is a new standard 802.11ax (Wi-Fi 6 and 6E) in theory 4x faster.
Cabling. Any Cat5 cabling will act as a choke point. Even the Cat6 cable has a distance limit of 55 meters at 10 G unless running the newer Cat6A cable (100m).
Switching. Any 1 Gbps (or 100 Mbps, yuck) ports will also restrict speeds.
Network interface. Wanting more than 1 G to your desktop or server likely means you will be upgrading these as well or looking for link aggregation options. It's much harder again to get 10 G interfaces on a laptop, but possible if you are determined.
CPU and Disk resources. Once upon a time, computers couldn't make use of 1 G speeds due to being too slow. New technologies emerged, such as SSD and faster PCs, but to fully use 10 G, you will need a well-spec'd machine and SSDs to use the upper speeds of the XGPON product set.
To wrap this section up, a business wanting to do more than aggregate Hyperfibre speeds to multiple end-users will likely need to undergo a range of upgrades to their router, switching, cabling and the desktops themselves.
| System Performance | Capacity |
| --- | --- |
| Firewall Throughput (Packet per Second) | 15 Mbps |
| Concurrent Sessions (TCP) | 1.5 Million |
| New Sessions/Second (TCP) | 56,000 |
| IPsec VPN Throughput (512 byte) 1 | 11.5 Gbps |
| Gateway-to-Gateway IPsec VPN Tunnels | 2,000 |
| Client-to-Gateway IPsec VPN Tunnels | 16,000 |
| SSL-VPN Throughput | 1 Gbps |
| Concurrent SSL-VPN Users (Recommended Maximum, Tunnel Mode) | 500 |
| SSL Inspection Throughput (IPS, avg. HTTPS) 3 | 1 Gbps |
| SSL Inspection CPS (IPS, avg. HTTPS) 3 | 1,800 |
| SSL Inspection Concurrent Session (IPS, avg. HTTPS) 3 | 135,000 |
| Application Control Throughput (HTTP 64K) 2 | 2.2 Gbps |
| CAPWAP Throughput (HTTP 64K) | 15 Gbps |
Read the guide to get up to speed on everything from high-level market intel to service specific details and all the gotchas in between. No Forms, no calls – 100% free