The National Broadband Network (NBN) in Australia offers a range of different technologies under its Multi-Technology Mix (MTM) approach. 
Each of these technologies uses a different type of Network Termination Unit (NTU) or Network Termination Device (NTD) to terminate the connection at the customer's premises. 
For the TC-4 (Traffic Class 4) product, which is the typical residential-grade service offering, the following types of NTDs are used:
FTTP (Fibre-to-the-Premises):
The NBN FTTP connection is terminated using an NBN-supplied NTD, often referred to as a "Connection Box". It's a white box that has four UNI-D (Data) ports and two UNI-V (Voice) ports.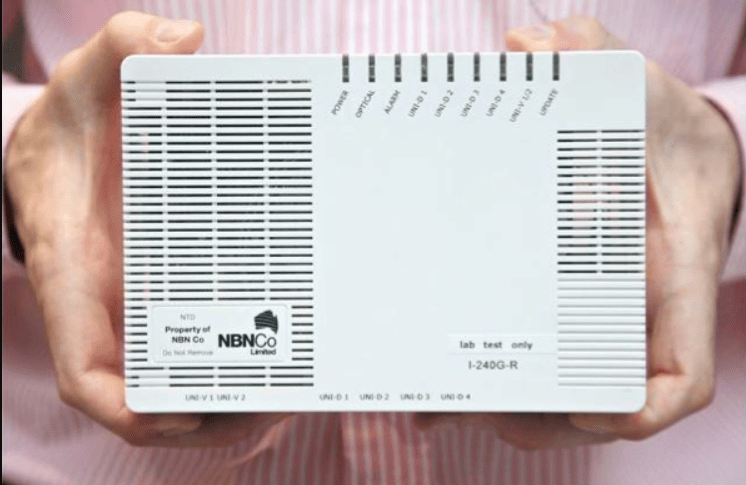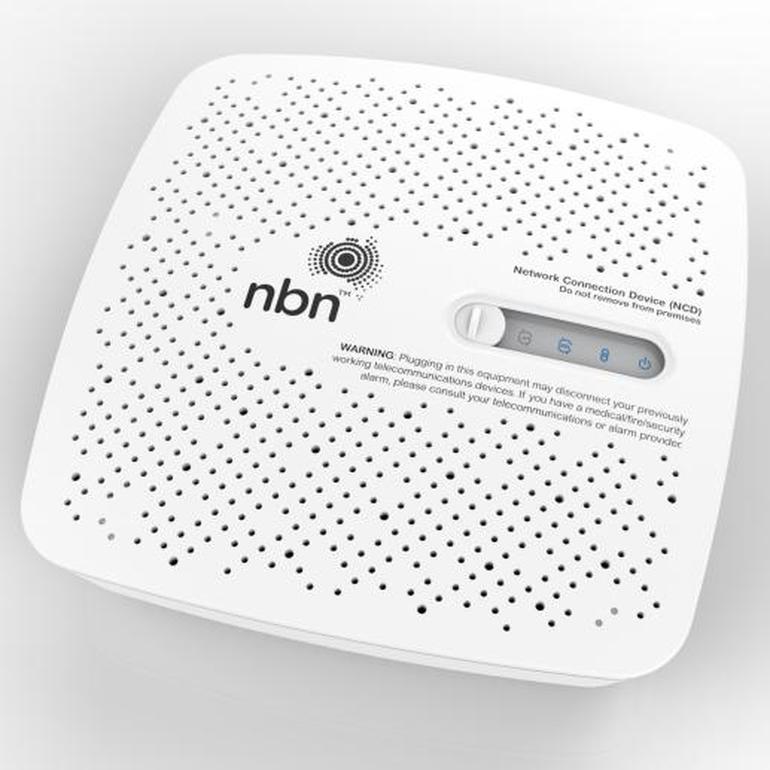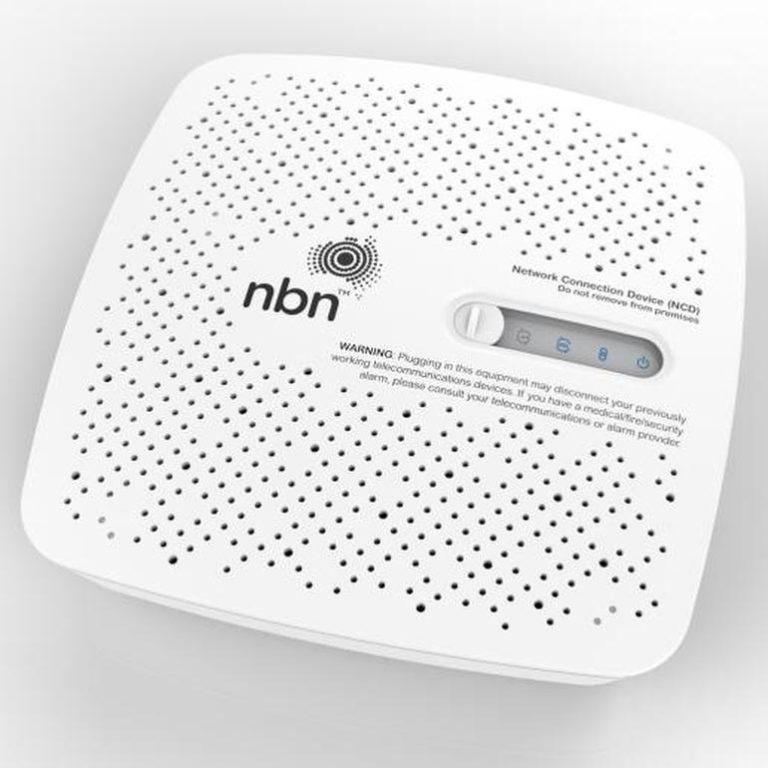 FTTC (Fibre-to-the-Curb):
FTTC connections are terminated using a Connection Device (NCD), which also incorporates a VDSL2 modem, to connect the property to the network via the existing copper lines.
FTTN/FTTB (Fibre-to-the-Node/Fibre-to-the-Building):
In these cases, the NBN connection is terminated at the node or building's communications room. The existing copper telephone lines are then used to deliver the service to each premises. The customer requires a VDSL2 compatible modem, which is not supplied by the NBN, to terminate the service inside their property.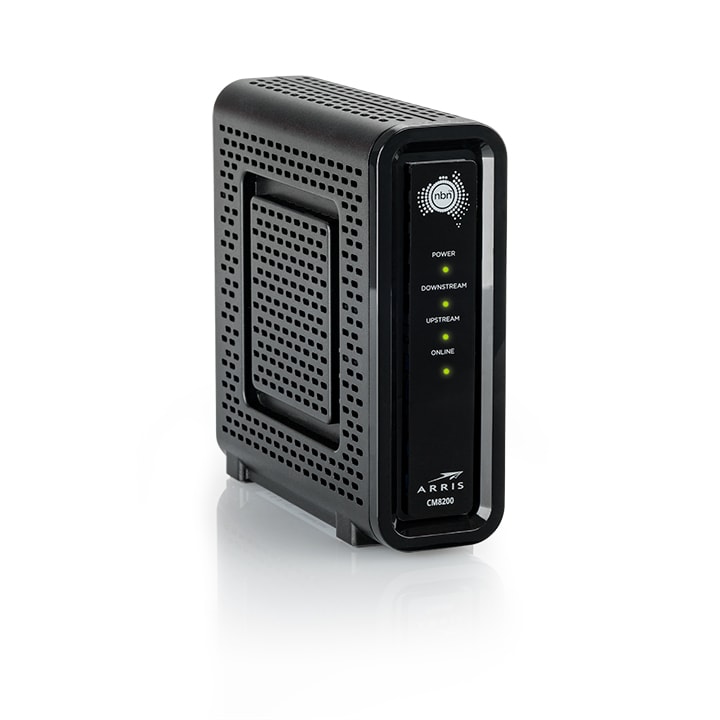 HFC (Hybrid Fibre Coaxial):
HFC connections use an NBN-provided NTD that connects to the existing Pay TV (Foxtel) or Cable Internet coaxial cable from the street.
Satellite (Sky Muster™ services):
For customers using the NBN Satellite service, an outdoor satellite dish and an indoor NBN NTD are used. The indoor NTD has four data (UNI-D) ports.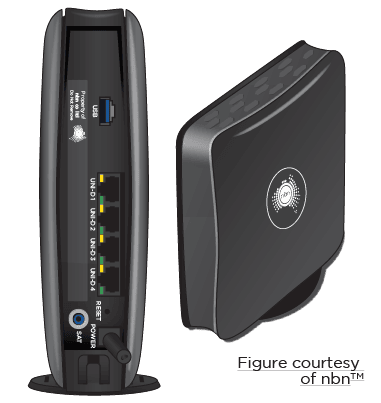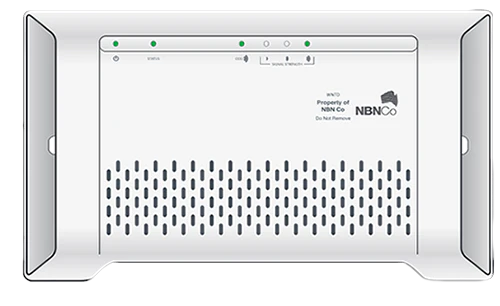 For NBN Fixed Wireless, an outdoor antenna is installed on the customer's premises, which connects to an NBN NTD inside the property. This indoor NTD has one UNI-D (Data) port and one UNI-V (Voice) port
Each of these NTDs interfaces with the customer's router or gateway device to provide the internet service in the customer's premises.
NBN Enterprise Ethernet NTU
The termination of the NBN EE connection at the customer premises is done through an Enterprise Ethernet NTU provided by NBN Co. This device is called the Network Termination Device-Enterprise Ethernet (NTD-EE) or a BNTD – Business Network Termination Device.
The NTD-EE is a single box with one User Network Interface-Data (UNI-D) port. It provides a point-to-point Ethernet service, so the customer can connect their router or firewall directly to the UNI-D port on the NTD-EE.
Since NBN Enterprise Ethernet is a Layer 2 product, it requires the retail service provider or business customer to provide their own Layer 3 devices (routers, etc.) and manage their own IP addressing.
In other words, NBN Co delivers the raw fibre connection to the premises and terminates it with the NTD-EE, and the customer or their provider is responsible for everything beyond that, including configuring their router to use the service.