Keeping track of Hyperfibre rollout shouldn't be difficult. 
We combined Chorus' &  Ultrafast Fibre's (UFF) hyperfibre rollout plans into one easily readable A4.
Enable confirmed they plan to release a similar Hyperfibre product early 2021. Northpower currently has no plans to release a Hyperfibre product.
Queenstown – Cromwell, Queenstown, Wakatipu, Wanaka (Chorus)
Wellington – Courtenay Place, Johnsonville, Miramar, Wellington (Chorus)
Invercargill – Invercargill, invercargill East, Invercargill South, Waikiwi (Chorus)
Auckland – Avondale, Birkenhead, Mayoral Drive, Ponsonby (Chorus)
Palmerston North (Chorus)
Hamilton – Hamilton East, Hamilton West (UFF)
Tauranga – Tauranga West, Tauranga East (UFF)
Taranaki – New Plymouth, Waitara (UFF)
Waikato – Matangi, Te Kauwhata, Cambridge, Te Puke, and Huntly (UFF)
Whanganui (UFF)
UFB 1 Areas

– Napier, Pukekohe, Napier, Hastings, Fielding, Levin, Masterton, Hutt City, Upper Hutt, Kapiti, Dunedin, Greymouth, Blenheim, Rotorua

(October 2020 by Chorus)
Christchurch (Early 2021 by Enable)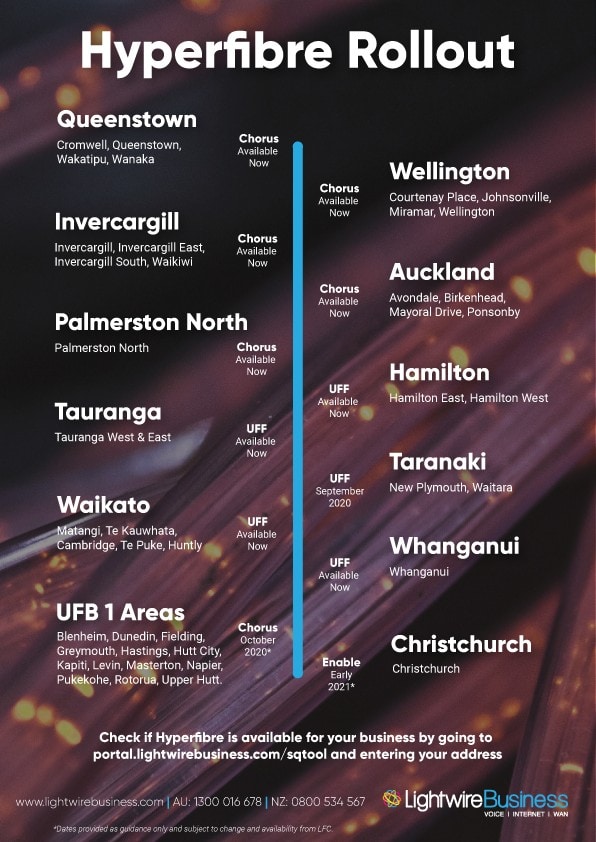 We created this flyer for you to use, so why not download it?
Read the guide to get up to speed on everything from high-level market intel to service specific details and all the gotchas in between. No forms, no cold calls – 100% free.