Surely, this can't be the best option?
You only get value out of Teams Calling or any voice solution if all staff members can make and receive calls, internally and externally. However, there is one key factor limiting the adoption of mobile friendly and intuitive voice solutions like Teams Calling – namely the pay per user charge model.
The pay per user charges add up fast. A single user pays a fixed monthly price for a voice solution, but a business never has just one employee. So, you add another user, and that price doubles; add a third user and, you guessed it, the monthly cost trebles. The model is either very costly for medium and larger organisations or leaves employees disconnected.
In Australia and New Zealand there is no getting away from the per user licensing model, but the set charge per user for calling as an add-on is a telecom construct that doesn't have to be tolerated.
Pay for what you need, not for what your telecom wants
Unlimited calls per user sounds great until you realise you are paying for calls your staff are not making. I mean, you do not pay per user for internet access, so why would you do it with voice solutions?
At Lightwire we always ask ourselves how can we provide the best possible experience in connectivity for our clients and partners. That's why our pricing model is based on the number of channels you need. Every channel supports one incoming or outgoing call, so simply put each call takes up one channel. The best part? Everyone in your organisation can have access to these channels to make and/or receive calls. That way you can get what you need instead of paying what your telecom wants you to pay.
The Lightwire voice pricing model depends on how many simultaneous calls you want to make or receive. A smart concept that makes the uptake cost significantly lower, especially for corporate and enterprise entities.
Let's have a look and see how much a per channel model can save you compared to a per user model. Here we compare a Teams Calling offering based on a business with 50 users based on a 36 month plan.
Teams Calling pricing model comparison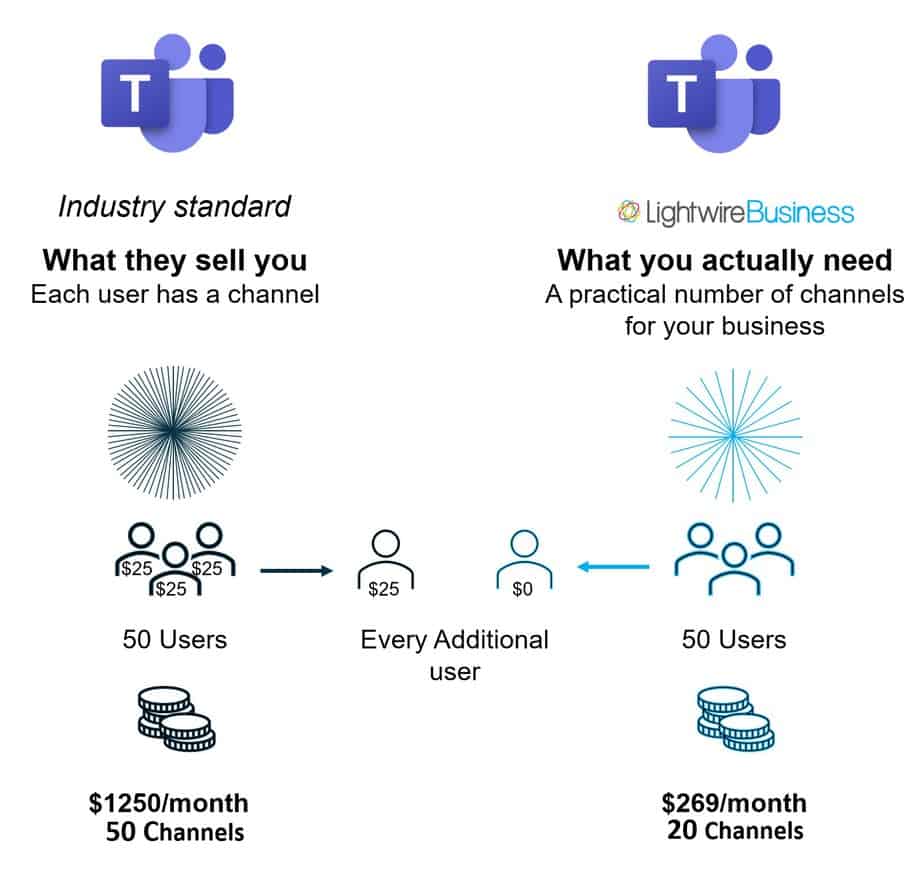 The telecom industry standard will be easy to calculate as you just need to multiply your users by the per user charge.  We know that a  Teams Calling solution costs around $25 per user on average, so for 50 users that would set you back $1,250 per month.
Calculating Lightwire's pricing is easy as it depends on how many simultaneous calls you want to make or receive. It's usually safe to divide the number of users by at least half to get the number of channels required. Let's assume you need to be able to make or receive a maximum of 20 concurrent calls at any given time, this would be priced at $269 per month – Even accounting for some variable charges based on usage profiles, the savings are significant.
Lightwire is about practical and quality solutions and offers the best service and support in the industry, a fact backed by our 96% customer satisfaction rating.
If per user charges are stopping your business from being able to use Teams Calling, talk to Lightwire about a cost-effective channel based charging model that scales.
P.s. Do you want to know the true total costs of Teams Calling? Read Nick's full breakdown of Teams Calling costs here.