This month saw some changes to our executive leadership team, with the appointment of Scott Raynel as the new CEO of Lightwire and the departure of our Chief Customer Officer, Brendan Ritchie.
Brendan's unwavering dedication and vision over the past six years have greatly influenced what Lightwire is today, especially the Lightwire Business division.
We'd like to extend our collective appreciation for Brendan, wish him the very best in his future endeavours, and congratulate Scott on his appointment.
Our day-to-day operations have remained unchanged during this transitional period, and I'd like to personally thank our partners for the support they have shown to Scott and myself.
Also, I want to thank you for taking the time to complete the annual survey. Your valuable input is greatly appreciated. We're currently in the process of analysing the results, so that we can learn how to serve you better.
​​​
Nick Phillips
Head of Partners & Alliances

Over the years, Lightwire has experienced massive growth in its Business and Rural divisions, and I couldn't be more proud of the team and culture we have here at Lightwire, so I'm honoured and privileged to have been asked to lead the team into our next phase of growth as CEO. 

My journey with Lightwire began nearly 20 years ago, and I've worn many hats since, from technical roles to Head of Operations and Chief Operating Officer. During this time we have built out our wireless network tower infrastructure, executed on acquisitions and integrations, and developed our Lightwire Business division across New Zealand and Australia.

I deeply understand the importance of complementing, not competing with you and being a telco partner who can be trusted to deliver hassle-free, rock-solid connectivity to you and your clients so that you can focus on adding value and growing your core business.

Thanks for trusting Lightwire to be your telco partner of choice.

Scott Raynel
Chief Executive Officer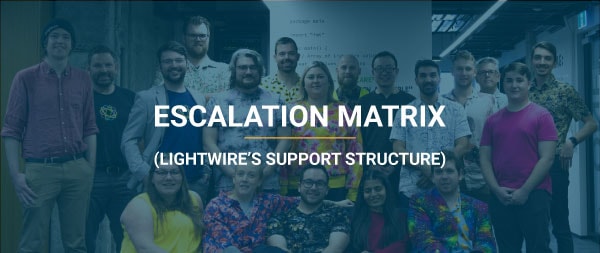 The support structure to keep you going
We've made it easier for you to find and access our escalation matrix. Please add this page to your wiki or bookmarks.  
Because even with all the diversity and redundancy in the world, things can go wrong from time to time, and when they do you want to be prepared. 
That's why we've got a clearly defined support structure to get you going, and to keep you going.
The escalation matrix gives you insight into what's happening behind the scenes and gives you the mobile phone numbers of key personnel in the unlikely event you need to escalate an issue. 
You can find it on the resource section in illume, don't forget to bookmark it. 
Embargo & Brownout Period 2023-2024
Lightwire's transition to focus exclusively on our partners has resulted in a series of strategic shifts within our Business Development & Account Management team to better service you.

Rather than pursuing new business ventures, our account management team will now centre their efforts solely on nurturing and managing existing relationships while upskilling themselves to become subject matter experts on our products and services to ensure you get the best partner experience possible.

Your Channel Account Manager is your first port of call for standard transaction requests and will pick up all requests sent to sales@lightwirebusiness.com. They will also prepare your quarterly business review documentation, monitor support requests, and manage complex provisioning projects.

Nick's role is to attend your quarterly business reviews, act as an escalation point, and assist in complex sales opportunities.

Questions about this new approach? Simply reply to this email, and we're here to help.
P.S. If we host your clients' PBXs, make sure to let us know which diversions you want to put in place for the holiday period
Being partner led, we establish a network presence wherever it helps our partners succeed. 

That's why a few months ago, we've built into the new "Hyperscale" CDC Data Centre in Hobsonville and the Vocus Data Centre in Albany. This further strengthens our Auckland ring, connecting these two Data Centres with 220 Queen Street and Mayoral Drive PoPs in central Auckland. 

Read the blog to find out how this helps you and what makes New Zealand's hyperscale data centre special. 
Season 2 Wrap Up | Insights as a Service
Season 2 of Insights as a Service is done! A huge shoutout to all our incredible guests and to you, our listeners for joining us on this knowledge-filled journey.​​

Check out YouTube channel »
Season 2 Wrap Up | Insights as a Service
Season 2 of Insights as a Service is done! A huge shoutout to all our incredible guests and to you, our listeners for joining us on this knowledge-filled journey.​​

Check out YouTube channel »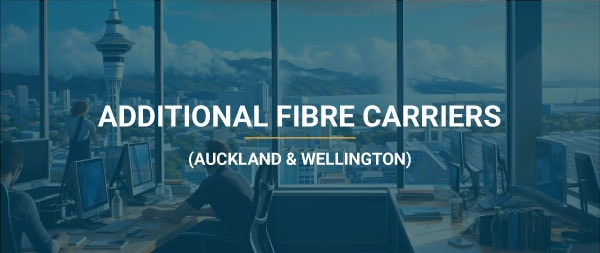 Additional Fibre Carriers
Want to build more resiliency for your Auckland & Wellington clients?
Our latest partnerships with Vital Fibre & Vector enables you to tap into their own build networks and offer their fibre services, meaning less dependency on Chorus and more control over your clients.
A number of partners have already taken up Vital & Vector fibre services in conjunction with Chorus UFB to improve clients' diversity and resiliency.
Expand the Modern Workplace with Teams Calling
Every business needs a phone solution, which is a great opportunity for you to build services around the Microsoft Teams ecosystem with Teams Calling (Teams Phone) as a way in or as an add-on. 

Think design, implementation, training, ongoing support, and recordings of voice messages, with Lightwire only providing a small (yet crucial) component of a far more extensive service offering in the Microsoft ecosystem. 
Public Holiday Diversions
Summer is fast approaching make sure to get your clients' phone system diversions in place for the holiday period. 
Here are the upcoming public holidays:
6 November – Recreation Day (AU – TAS)
7 November – Melbourne Cup Day (AU – VIC)
1 December – Devonport Show (AU – TAS)
24 December – Christmas Eve (AU – NT, QLD, SA)
25 December – Christmas Day (AU & NZ)
26 December – Boxing Day (AU & NZ)
31 December – New Year's Eve (AU – NT, SA & NZ)
1 January – New Year's Day (AU & NZ)
2 January – Day After New Year's Day (NZ)
10 January – Devonport Cup (AU – TAS)
26 January – Australia Day (AU)
If Lightwire hosts your clients' PBX(s) we can do this free of charge. Open a ticket via illume or send an email to support@lightwirebusiness.com with the following detail:
Account name and number 
Date and time you would like calls diverted
Date and time you would like calls returned to normal
Diversion destination (voicemail, mobile, etc)
If you require a special recorded message to be played, please include the audio file with your email as these cannot be recorded by Lightwire staff.
Please send through your request as soon as possible to ensure that your clients' diversions are in place for the public holiday.