Trying to figure out what the best voice / unified communication solution is for your clients but feel overwhelmed by the features? In this blog post it's 3CX vs RingCentral, and have put the major differences down below in an easy to understand comparison.
A comparison of per user vs. per channel pricing
If you are looking at purchasing a voice or unified communications solution, and trying to figure out whether you should be opting to pay based on how many team members you have or how many concurrent calls you need the system to handle, this post is aimed at making the decision easy for you by using a real world comparison.
Per user charges sound great until you realise that you are paying for calls your staff aren't making. That's why Lightwire's 3CX service is based on how many simultaneous calls you can make rather than how many staff you have.
Under Lightwire's per channel model, every concurrent call uses a channel and users share channels. The per channel model is a simple concept that makes the cost of unified communications significantly lower, especially for corporate and enterprise entities.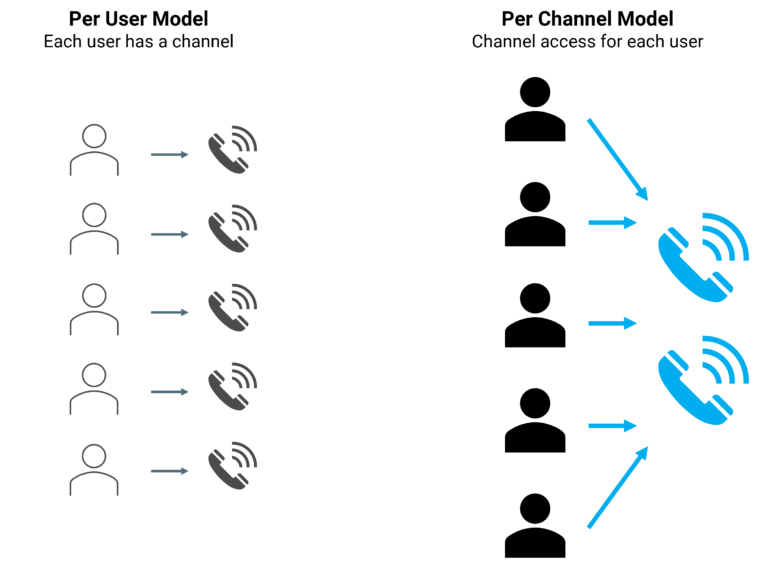 To prove this point, in this post we will review the price of Lightwire's hosted 3CX service, which uses a Pro license by default, against RingCentral's Premium offering. Both feature sets are very similar, and to keep things fair, the unlimited calling option has been selected for each, AUD is being quoted, and a 12 month term selected.
Let's say we have a business with 90 people working in it. This business isn't a call centre, but all of the people within need to be able to make and receive calls when required. The business is looking for set and forget billing with no variation, so unlimited calling is required.
The price point - RingCentral
RingCentral's Premium option with unlimited calling added costs $55.99 p/user/month when a 12 month term is selected.
The maths on this one are simple – 90 users at $55.99 = $5,039.10 p/month.
The price point – Lightwire 3CX
Lightwire's retail hosted 3CX service with Pro license and 32 channels (simultaneous calls) costs $2,986 p/month on a 12 month term.
Why 32 channels when there are 90 users? Most business operate with a 4:1 ratio of users to channels (1 channel supplied for every 4 users), but for the sake of fairness we have run with a more conservative ratio here of 3:1, which would allow for an above average rate of calling.
Under the Lightwire scenario, 32 channels are shared across 90 staff, rather than having a line allocated to each user that is typically idle.
As you can see from the above comparison, the per channel model is the smart way to purchase voice services. In the above scenario, the customer would save $2,053.10 p/month, or $24,637.20 p/year.
If you add on the fact that Lightwire's service is fully managed and comes with readily accessible 24/7 support and escalation paths, the efficiency gained adds even more value to the savings.
Making sure you the channel ratio right
Just in case more (or less) channels are required, Lightwire ensures that you have your finger on the pulse when it comes to channel utlisation. Illume, our customer portal, monitors channel usage in real time and sends your technical contact(s) emails as 75% and 100% are hit.
Our dev team works hard to make sure that you have the real time data driven insights required to create great end user experiences that drive efficiency and profitability for your business.