Teams Calling (also known as Teams Phone) eBook videos and resources
#1 - Simple Call Flow Diagram
If you think you have simple requirements, check the following simple call flow and a basic IVR (or auto-attendant) diagram. If you require more complex call flows, you may require a third party integration.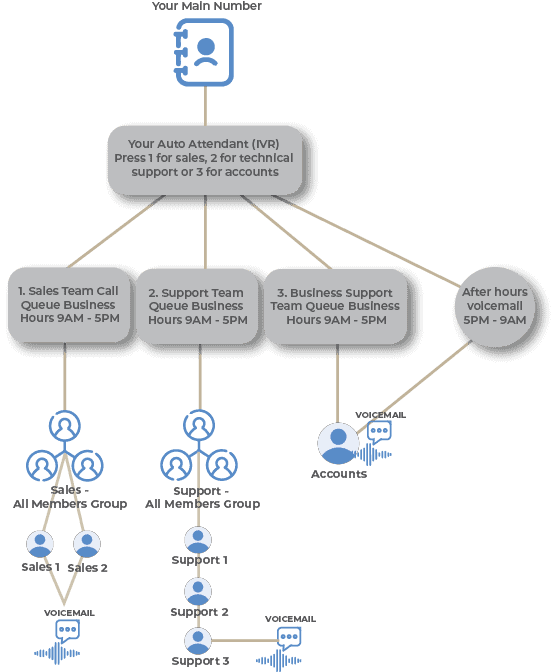 #2 - Voice reporting features overview
Know exactly what's going on with your voice service from call volume to how many simultaneous calls you're making. Illume, our customer portal transforms voice data into actionable information, so you can make informed decisions regarding your voice service.
#3 - Voice channel utilisation
Lightwire provides channel utilisation alerts when 75% and/or 100% thresholds are hit. But more than that, when you need to increase your channel count, we can make that happen within 24 hours.
#4 - Is Teams Phone right for Lightwire?
Microsoft Teams gives you the functionality of a traditional business phone system (PBX) with call-handling functions like call hold, transfer, forwarding and voicemail all in the cloud. But, there are a number of things it can't do, check out our video to get a feel for whether it has the features your customers need.
#5 - Porting fact sheets for NZ and AU
Your number is part of your identity, we know it is essential that you keep it once you move your voice to us. In NZ and AU we can port landline, 1300 and tollfree numbers across to us, check out the links below to see what we need to know to make it a smooth process.
#6 - Wholesale rebilling tool
See and set your own voice rates based on call types and/or destination prefixes inside our customer portal, illume.
Learn how, and why, Lightwire has partnered with Datagate to simplify MSP voice billing in this video. 
Datagate's CEO Mark Loveys and Regional Sales Manager Liston Pinto join Nick and Brendan to discuss:
0:45 – Datagate's story and how they operate in AU & NZ
1:58 – How MSP's can sell and bill voice with ease
3:43 – What Datagate does better than others in the same space
5:34 – Unique billing requirements of MSPs 
6:42 – Why Lightwire partnered with Datagate
7:22 – The onboarding experience
8:51 – How setting your rates works
9:52 – How the Datagate partnership affects your bottom line. 
#8 - Free teams Phone Trial
We want to take the risk out of adopting Teams Phone, so we have a Free Trial options that comes with no obligation or costs whatsoever.
We don't expect you to take our word for it that Teams Phone delivered via Direct Routing (and Lightwire) is great, we want to prove it, that's why we offer a free, and obligation free, 14 day trial.
Get started with the Risk Free Teams Phone Trial
Fill out the form below and our team will be in touch within 8 business hours.
Choose a better way to get your clients connected